Nau Mai, Haere Mai - Welcome to Hauora Hokianga
Three New Staff Vacancies
There are three new vacancies advertised on our Careers page. If you are interested in applying to be a Community Health Nurse or a Kaimanaaki Tangata, please phone Christine Williams on 09-4057320 for further information.
Hokianga GP Gets Top Honour
Dr Kyle Eggleton who was brought up in Hokianga and completed his GP training here received a Distinguished Fellowship at the recent Royal NZ College of General Practitioners (RNZCGP) conference, in recognition of his service to the College, and the Northland community. Kyle is a strong advocate for reducing inequalities between Maori and non-Maori. He currently works as a kaupapa Maori medical officer at Ki Ora Ngati Wai, based in Whangarei.
Congratulations Kyle, we are very proud of you.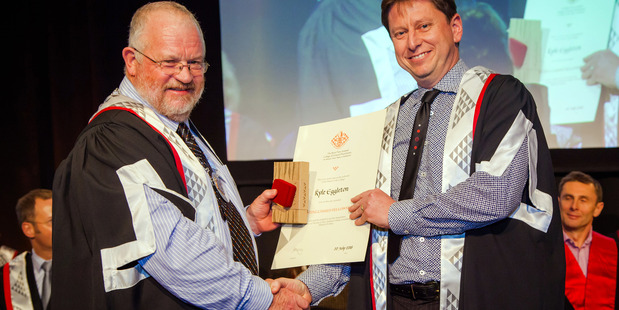 Dr Tim Molloy, President of the RNZCGP, presents GP Kyle Eggleton with a Distinguished Fellowship. Photo/Jeremy Hill Photography.
Annual Business Plan 2016/17
The Trust board approved the Annual Business Plan for the new 2016/17 financial year on 28th June.
Hokianga Tuturu - Smokefree Cars Design Competition
Tiana Hohaia of Te Kura Takiwa o Manganuiowae (Broadwood Area School) is the winner of our Smokefree Cars Hokianga design competition with her concept design 'Hokianga Tuturu'.
Students Rosalee Johnson, Tiana Hohaia with her winning design, and Aneta Rea Harris Campbell.
New Medical Director
After seven years as Medical Director, Dr Clare Ward has handed over the responsibility to Dr Mark Lankshear. The Medical Director leads the medical team, takes overall responsibility for decisions in the GP practice, and is a member of the executive management team. Mark has been with Hauora Hokianga since 2007, and is seconded two days a week to the Mid North Mental Health Team.
News and Upcoming Events
If you would like to read more about our latest news and current activities, please check out our latest community newsletter, or visit our active facebook page.
Community Newsletter »
Driver License Courses
| | |
| --- | --- |
| Frequency: | Usually held every second month |
| Where: | Hauora Hokianga (Rawene Hospital) |
| When: | 9.30am - 2.30pm |
| What: | Three day programme; two days of study, the third travel to AA Licensing Kaikohe to sit test |
| Cost: | Course free. The test at AA costs $93.90 |
| Bring: | Passport - not more than two years expired OR original Birth Cert, photo ID and letter verifying address |
| Contact: | Hayley Paul (09)405-7345 (021)457738 |
Annual Report 2014/15
The Trust's Annual Reports provide the reader with comprehensive information about the organisation; our objectives, values, plans, and activities; including progress towards achieving the Trust's goals in the 2014/15 period.
Annual Report »
Hokianga Health Enterprise Trust
is a community organisation, owned and governed by the people of Hokianga, that provides a comprehensive range of health services to enrolled people who reside within and around the Hokianga area of Northland, New Zealand.
If you wish to enrol with us, please enquire at one of our health clinics or download and return our form below.
Enrolment Form »
More About Us »
Hauora Hokianga Services
The Hokianga model of healthcare has its foundation in what was known as the Hokianga Special Medical Area (1941-1993) which was developed under the visionary leadership of the legendary Dr George McCall Smith.
Comprehensive healthcare services are provided at Rawene Hospital / Health Centre and nine community clinics located throughout the remote regions of Hokianga by an integrated multi-disciplinary team of mobile health practitioners and support staff. Generalist community health nurses cover the full range of nursing services in close association with general practitioners who also cover the medical management of the Hokianga / Rawene Hospital under the Rural Hospital Medicine scope of practice.
Enhanced primary care and disability support services are woven together to create a seamless and efficient model where the needs of patients, whanau, and community are at the centre of care and where barriers to access, such as cost and distance are minimised.
All of the services, including general practice clinics, are provided at no cost at the point of care for enrolled patients.
Hauora Hokianga offers the following broad categories of service:
Hospital Services
Primary Care Services
Disability Support Services
Maternity Services
Mental Health Services
Public Health and Health Promotion
Community Development
Primary health care services are provided in association with Te Tai Tokerau PHO and the hospital, community, maternity, disability support, public health, mental health and oral health services in association with Northland District Health Board (DHB).
Te Tai Tokerau PHO »
Northland DHB »
54.226.47.198
10177